Arbitration Lucia F
From Mass Pirate Wiki
Jump to navigation
Jump to search
On June 17th, one of the Massachusetts Pirate Party arbitrators received this email message from a concerned citizen
Hello, there! My name is ---. I'm messaging you concerning one of your current employees, a woman named Lucia F? She has been publicly posting some very ignorant and hateful things towards trans individuals on her Facebook profile, and it's caused enough concern that I've had many people message me upset about it. Considering I know the Pirate Party is supportive of rights of all individuals, of any identity, and considering the Massachusetts Pirate Party even joyously participated in the Boston Pride Parade this year, I think that the Party has a right to know if one of it's workers is actively and publicly spreading such problematic and angry things towards the trans community, especially since the first post was shared on the anniversary of the Orlando Pulse Shooting. I have taken screenshots of some of the things she's posted and said, and although her Facebook profile is public, I will send the screenshots if wanted.

We obtained a large collection of screenshots. This is one of the more subdued ones, but it should give you an idea of what the Facebook posts were like.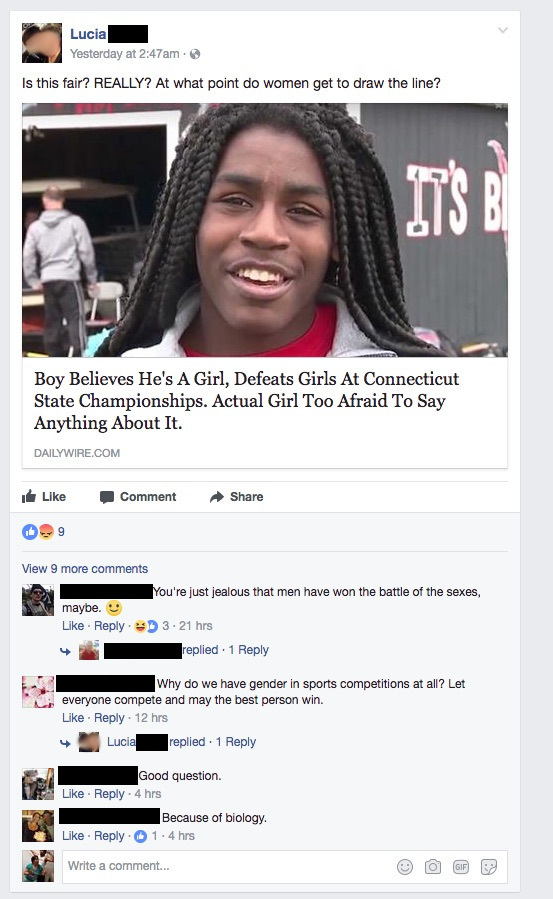 This post was apparently directed at a trans male, and a bitter disagreement followed.
The Massachusetts Pirate Party (MAPP) has always supported the LGBTQ+ community. LGBTQ+ individuals have been pirates, pirate officers, and pirate candidates. We respect them, and it was very troubling to see anti-trans postings coming from a former MAPP officer. We took this situation very seriously. Lucia F did make these postings on her personal facebook page; however, Concerned Citizen had no difficulty in associating Lucia with MAPP. For this reason, we considered her comments a stain on us, and felt the need to do something. We assembled a team of three arbitrators, who reviewed the screenshots and began formulating an intervention strategy.
Concerned Citizen also contacted the United States Pirate Party (USPP), and we did as well. At the time, Lucia F was serving as the USPP secretary; we were concerned that a person who associated her with MAPP would also be able to associate her with the USPP, and with the Pirate Party in general. We kept in close contact with the USPP throughout the process.
On June 25th, the USPP discussed this incident with Lucia F. A transcript of the discussion is here: https://pnc.piratenpad.de/PNCBoard-2017-6-25 (local copy); it didn't go well.
Later that evening, Lucia submitted her resignation to the US Pirate Party.
 ==================================================================
From: Lucia F p.p. SAB Mailing List <sab@...>
Date: Sun, Jun 25, 2017 at 11:45 PM
Subject: [SAB Mailing List] Farewell
To: SAB Mailing List <sab@...>


* (Mailing list information, including how to remove yourself, is located
at the end of this message.) *
I was curious how long you were going to let that meeting drag on before
you would agree to adjourn. It was a mistake. I failed to take care of
myself today and my symptoms have returned.

https://pnc.piratenpad.de/PNCBoard-2017-6-25

My health is fragile, I don't have energy to spare for an organization who
wants me to self censor the primary outlet I have for political discourse.

Effective immediately I am resigning from all things relating to the USPP
and the MPP. I will change my social media profiles presently.

Happy Birthday Andrew.

Adieu


Lucia's resignation came 1--2 days before MAPP's arbitrators were ready to begin talks. Given her resignation, and the way the USPP discussion went, we chose not to pursue a separate arbitration process.
The Massachusetts Pirate Party believes in the right of free speech and free expression. We also believe that free speech can come with consequences, and it is never a license to mistreat, coherse or oppress.
This was not a one time incident. We've had numerous hostile encounters with Lucia F, and it was a mistake to let them go unchecked for so long. We recognize this shortcoming, and will strive to do better in the future.
Finally, we wish to express our gratitude to Liz and Meg from the USPP for their efforts in pursuing this matter.
Signed,
Massachusetts Pirate Party Board of Arbitrators