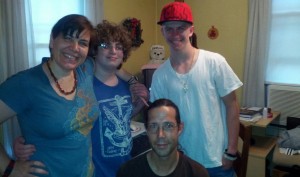 When First Officer Lucia found out from Cam's father and sister that the Methuen police took the D'Ambrosio's  *only* computer as evidence in Cameron D'Ambrosio's charge of Communicating a Terrorist Threat, she sprang into action. Gathering up one of her old, but workable computers, she enlisted the help of Captain James and Quartermaster Steve in making the computer ship shape. After installing a new hard disk, they loaded a copy of the free Linux Mint OS, as well as Tor and other useful open source software. Last Saturday, Lucia and Steve dropped it off and got it up on the Internet. We are proud of the part they played in helping Cameron and his family. And we are thrilled to welcome Cam back to Facebook! Keep posting, keep sharing. It is your RIGHT!
Cameron's Probable Cause hearing is still scheduled for June 27th and he is still not quite out of the woods. He and his family need people to show up at that hearing and show support.
Also, there is a benefit concert for Cameron and his family on July 6th at The Crown in Lowell.  It starts at 8pm.