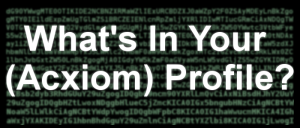 I was listening to the radio the other day, and heard a passing reference to Acxiom. Unless you work in marketing, you've probably never heard of Acxiom; they're a data broker, and one of the bigger ones out there. According to their last annual SEC filing:
Acxiom is an enterprise data, analytics and software-as-a-service company. For over 40 years, Acxiom has been an innovator in harnessing the powerful potential of data to strengthen connections between people, businesses and their partners. We focus on creating better connections that enable better living for people and better results for the businesses who serve them.
In short, Acxiom builds marketing profiles on individuals, and sells this information, typically to corporate customers.
Acxiom recently launched a new web site, AboutTheData.com where you can view and edit your marketing profile. I'm not a big fan of data aggregators, but I have to applaud Acxiom for providing this level of transparency. Of course, I was curious to see what my marketing profile looked like, so I logged on to AboutTheData.com to have a look.
Acxiom will ask for a lot of personal information the first time you retrieve your marketing profile: your name, address, date of birth, and the last four digits of your social security number. That's a lot, but keep in mind that they're using it to locate your profile; in other words, Acxiom already has this much information about you.
Acxiom's profile consists of six categories:
Characteristic Data. Your name, age, gender, level of education completed, marital status, and political party affiliation.
Home Data. My profile contained no information in this category.
Household Vehicle Data. My profile contained no information in this category.
Household Economic Data. This category contains your estimated household income, whether you have credit cards, and the number of credit card purchases you've made in the last 24 months (at "selected retailers").
Household Purchase Data. This section contains information about your purchases (number of purchases, total amount purchased) from mail order companies, online stores, and brick and mortar businesses.
Household Interests Data. This section contains a list of things you're interested in. Stuff like "Buys PC Software", "Gourmet Cooking", and "Donates to Charitable Causes".
To be perfectly honest, Acxiom didn't have a lot of information about me, and much of what they had was wrong. For example, Acxiom grossly understated my purchasing history; household income and level of education were totally off the mark; about 60% of the household interests described me, but 40% didn't describe me at all. Or, maybe they're just interests I didn't know I had.
Acxiom also gives you the opportunity to edit the information in your profile. Given the information in my profile, I'm probably not a very marketable person, so I decided to let the inaccuracies stand.
I asked my partner to retrieve her Acxiom profile, so that we could compare notes. In doing so, the exercise became much more interesting. My partner's profile was far more complete, and far more accurate. For example, where my "Home Data" section contained nothing, her's contained 31 pieces of information about our home (square footage, year built, purchase date, assessed value), our mortgage (loan amount, loan-to-value ratio), and our refinances. It was comprehensive and pretty darn accurate.
Acxiom had a little Household Vehicle data for my partner (auto renewal policy month, which was off by several months), relatively accurate income information, and lots of purchase and interest data.
As she put it, "Whatever you're doing to fly under the wire, it seems to be working."
So what am I doing to fly under the wire? According to AboutTheData.com, Acxiom obtains data from public records, from surveys and questionnaires, and from
General data from other commercial entities where consumers have been provided notice of how data about them will be used, and offered a choice about whether or not to allow those uses – like demographic data.
I try to use cash rather than plastic, I don't use "loyalty cards", I don't accept third-party cookies, I read privacy policies, and I opt-out of data sharing whenever I can. That might be one reason: whenever you pay with plastic, or scan a loyalty card at the checkout counter, you are being surveiled. Merchants and banks (at least some of them) make money by collecting this information, and selling it to data aggregators like Acxiom. On the other hand, some of the differences surprised me. Take our home data for example. The information about our house and mortgage are public records, easily obtained from the Middlesex South Registry of Deeds. Why so much information about her, while nothing about me?
Keep in mind, Acxiom is one of many data aggregators. Think of what your (say) Facebook marketing profile looks like, especially now that they've signed deals with Datalogix, BlueKai, Epsilon, and of course, Acxiom. Welcome to the new information economy, I guess.
So what's in your Acxiom profile? If you're inclined to check it out, please leave a comment and let us know what you found. Likewise, if you know someone who's purchased information from Acxiom, please leave a comment, and tell us about it.
The internet is a wonderful invention. It's a same that it so often degenerates into corporate surveillance and marketing.