A few weeks ago, I wrote a short post about my experience making a FOIA request to the TSA. To summarize in a sentence: the TSA's website lists an address where FOIA requests should be sent; the post office won't deliver mail to this address. Or more specifically, letters to this address are returned as undeliverable.
I used the TSA's Contact Page to let them know that the post office had returned my FOIA request as undeliverable, and to ask for the correct mailing address. Here's the response I got (notice that there is an @senture.com return address; apparently the TSA doesn't handle their own service inquiries).
Date: 28 Mar 2014 15:06:12 -0400
From: tsatcc_do_not_reply@senture.com
Subject: In Response to your inquiry.

Thank you for your email message concerning the Freedom of Information Act (FOIA).

Transportation Security Administration (TSA) Freedom of Information Act (FOIA) and Privacy Act (PA) requests can be made by e-mail to FOIA.TSA@dhs.gov or by facsimile at (571) 227-1406. Requests may also be submitted by postal mail. If mailing a request, please prominently mark "FOIA Request" on an envelope addressed to:

The Transportation Security Administration
Freedom of Information Act Office, TSA-20
11th Floor, East Tower
601 South 12th Street
Arlington, VA 22202-4220

FOIA PA requests must:

Contain the requestor's name, address, telephone number, and, if applicable, an e-mail address.
Specify whether the request is a FOIA or Privacy Act request.
Explain in detail the information about the records being sought.
Specify the preferred format the requested information should be provided; if in a format other than paper.
State the requestor's willingness to pay fees and the amount to be paid as advance authorization to process.

The FOIA PA office will send an acknowledgement letter within 4-5 business days that the request is received. This letter will contain a TSA tracking number for use when contacting our office.

For questions or further information regarding FOIA PA or the request process, please contact the FOIA Headquarters Office at (866) 364-2872 ([866] FOIA-TSA) toll free. In addition, our Web site, www.tsa.gov, contains information on how to follow up on a FOIA request, the TSA Electronic Reading Room, and useful Internet links to various U.S. Department of Homeland Security administrations.

We hope this information is helpful.

TSA Contact Center

NOTICE: The information contained in this message and any attachments is privileged and confidential and therefore protected from disclosure. If the reader of this message is not the intended recipient, or an employee or agent who is responsible for delivering this message to the intended recipient, you are hereby notified that any dissemination, distribution or copying of this communication is strictly prohibited. Senture does not accept liability for changes to this message after it was sent. The views expressed in this e-mail do not necessarily reflect the views of the company. If you have received this communication in error, please notify the sender immediately by replying via e-mail to this message and deleting this information from your computer.
Their response was timely, and it seemed quite helpful (with an amusingly ironic legal notice to boot!). I eagerly touched up my FOIA request, and sent it off to the new mailing address.
Here's what I got back: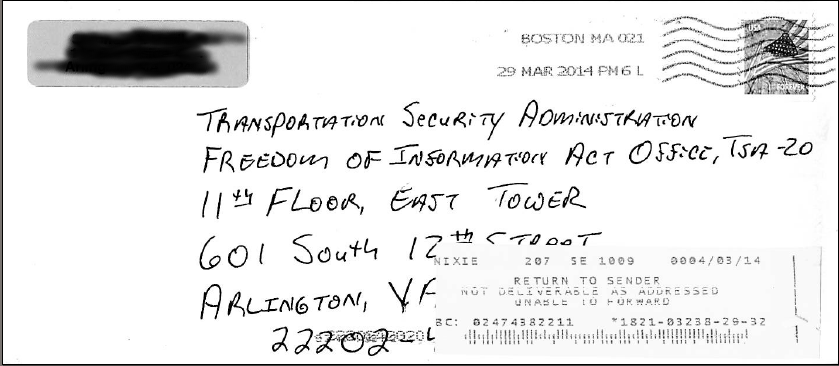 Indeed, the post office returned FOIA request #2 as undeliverable. This very sad to say, but the agency in charge of US transportation security does not even know their own mailing address.
While I gear up for round #3, I'd like to ask everyone for a favor. Send some tweets to @TSA, @TSAmedia_JimM, @TSAmedia_AnnD and @TSANortheast; give them a link to this blog post, and ask why they can't get their FOIA mailing address straight. If you hear back, please post it in the comments.