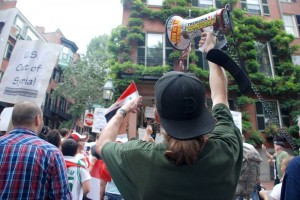 NO WAR ON SYRIA!
The People have spoken. They don't want military intervention in Syria. The Mass Pirates made their voices heard along side other activists in the streets of Boston last Saturday. We even marched to John Kerry's HOUSE. But powerful, monied interests have out leaders' ears, and those interests are salivating for war. Money talks. We need to talk louder. Persistently. Until they hear US.
From MPP "Master Gunner" Garret Kirkland:
President Obama has put military options before Congress, regarding how/when/where to strike Syria. The Senate is drafting approval for "limited" attacks in Syria, constrained to a 60 day deadline. No ground troops.
60 days of bombing? 1 single bomb?: Totally unacceptable. NO WAR WITH SYRIA! No bombs! Cease intervening!
How many Syrians must die in order to punish the regime for crimes that Washington DC hasn't proven it committed against the Syrian people? Why do we have no support from our staunchest NATO allies in Berlin and London? Why is Washington marching firmly forward to War in spite of broad resistance?
Can the People stop Congress before we inflict the suffering of Iraq and Libya upon Syria? It is entirely up to you, the People to turn out and make a statement that cannot be ignored.
On Saturday, Sept 7, nation- and world-wide, a second week of demonstrations against War w/ Syria will be commencing in your local cities and towns, and will culminate in a national march on DC, Monday, Sept 9.
Boston, MA. Boston Common, MBTA "Park St" Schedule of event:
10AM: Pre-event sign making, outreach, sign waving.
1PM: Rally and speakers.
2PM: March from Boston Common to Faneiul Hall
Please check back frequently, (https://www.facebook.com/events/1417584815119642/) and feel free to contact me (Garret) or the other organizers ("hosts") directly.
Garret Kirland: garretmk@gmail.com
Matthew Kravitz: massops@tormail.org
What to bring?!:
-Relevant NO WAR W SYRIA themed signs
-camera
-water
————————————–
Stating the Obvious:
We demonstrate for peace peacefully.
—————————————–
YOUR MASSACHUSETTS FEDERAL CRITTERS:
Massachusetts Representaives
1 Neal, Richard E. – 202-225-5601
2 McGovern, James – 202-225-6101
3 Tsongas, Niki – 202-225-3411
4 Kennedy III, Joseph P. – 202-225-5931
5 Markey, Ed (Vacant) – 202-225-2836
6 Tierney, John – 202-225-8020
7 Capuano, Michael E. – 202-225-5111
8 Lynch, Stephen F. – 202-225-8273
9 Keating, William – 202-225-3111
Massachusetts Senators:
Warren, Elizabeth – 202-224-4543
Markey, Ed – 202-224-2742
House Leaders:
Boehner, John (R) – 202-225-6205
Pelosi, Nancy (D) – 202-225-4965
Cantor, Eric (R) – 202-225-2815
Senate Leaders:
Reid, Harry (D) – 202-224-3542
McConnell, Mitch (R) – 202-224-2541
————————————————
THIS IS A GLOBAL DAY OF ACTION. CONFIRMED USA LOCATIONS (that we know of):
Massachusetts (other than Boston)
NEW BEDFORD: https://www.facebook.com/events/239006569580155/
SPRINGFIELD: https://www.facebook.com/events/1409951602560340/
New York
NEW YORK CITY: https://www.facebook.com/events/357407417726630/
BUFFALO: https://www.facebook.com/events/222845624537602/
Michigan
SPRINGFIELD: https://www.facebook.com/events/1409951602560340/
WASHINGTON DC: https://www.facebook.com/events/563464440373777/
Pennsylvania
PHILADELPHIA: https://www.facebook.com/events/404768706301829/
Ohio
CLEVELAND: https://www.facebook.com/events/184403395073243/ & https://www.facebook.com/NOWARwithsyriaCLEVELAND
COLUMBUS: https://www.facebook.com/groups/212920022203108/
Illinios
CHICAGO: https://www.facebook.com/events/142468009295633/ & https://www.facebook.com/events/632321833468149/
Minnesota
MINNEAPOLIS: https://www.facebook.com/events/409178679203245/
Missouri
ST LOUIS: https://www.facebook.com/events/509611722446791/
Kansas
WICHITA: https://www.facebook.com/events/489615451123562/
KANSAS: https://www.facebook.com/events/466176590146930/
Oklahoma
OKLAHOMA CITY: https://www.facebook.com/events/1411313969082686/
TULSA: https://www.facebook.com/events/282576931882529/
Arkansas
LITTLE ROCK: https://www.facebook.com/events/622549261098670/
Tennessee
MEMPHIS: https://www.facebook.com/events/468214603275687/
NASHVILLE: https://www.facebook.com/events/379584885502507/
North Carolina
CHARLOTTE: https://www.facebook.com/events/1408133369405180/
Florida
TAMPA: https://www.facebook.com/events/1413121772247074/
Texas
FORT WORTH: https://www.facebook.com/events/510197189062404/ & https://www.facebook.com/events/503891873030349/
AUSTIN: https://www.facebook.com/events/190453154459560/
CONROE: https://www.facebook.com/events/1410199879200188/
Arizona
TUCSON: https://www.facebook.com/events/412676965504853/?ref=br_tf
PHOENIX: https://www.facebook.com/events/520660951338155/ & https://www.facebook.com/events/1412323025648288/?ref=br_tf
California
SAN DIEGO: https://www.facebook.com/events/154427298090014/
LOS ANGELES: https://www.facebook.com/events/404701396296159/
FRESNO: https://www.facebook.com/events/186697314843916/
SAN JOSE: https://www.facebook.com/events/590167581029342/?ref=br_tf
OAKLAND: https://www.facebook.com/events/403287799771789/ & https://www.facebook.com/events/528826650523730/
SAN FRANCISCO: https://www.facebook.com/events/619089938111312/
SACRAMENTO: https://www.facebook.com/events/317130931764687/
Utah
SALT LAKE CITY: https://www.facebook.com/events/644064555618304/ & https://www.facebook.com/events/1409460149276144/
Colorado
DENVER: https://www.facebook.com/events/506703812739032/
Washington
PORTLAND: https://www.facebook.com/events/323218307823420/
SEATTLE: https://www.facebook.com/events/652372694787638/
———————————————–
if you don't see an event for YOUR CITY – MAKE ONE!!
INVITE FB Friends :: SHARE ::
TWITTER: #NoWarWithSyria