This Sunday, the 16th, forty organizations and 2,500 marchers are expected to participate in the Saint Patrick's Day Peace Parade in South Boston.
We will join them and march for Manning, Snowden, open government and personal privacy. Join us.  Bring your banners, signs, and friends!
The parade assembles at 2pm on D Street near Cypher St. in South Boston.  It starts at 3pm.  We march in the political groups division.  Look for Veterans For Peace flags and our banner.
If you want you can sign up to the Facebook Event.
Getting to the Assembly Area
Come by T if at all possible as the area will be very congested. Broadway is the closest MBTA subway station, though it tends to get crowded so you will need to give yourself much extra time to get there.  An alternative way is to get off at the MBTA Silver Line's World Trade Center stop and walk from there.  We included maps for both methods.
Via World Trade Center MBTA Station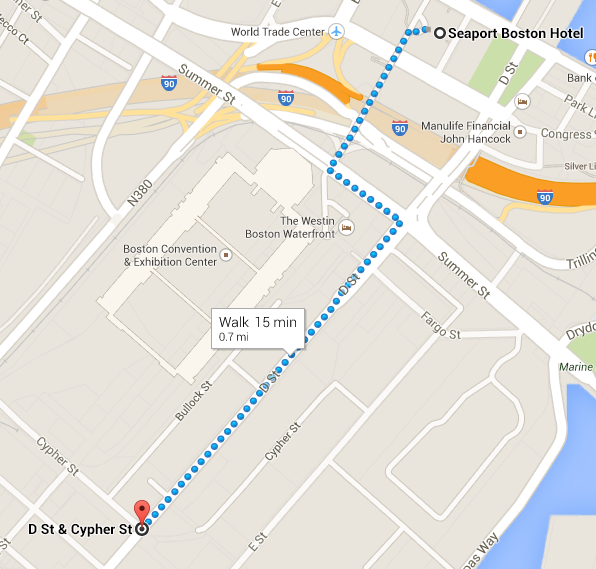 Parking is available for participants in the St. Patrick's Peace Parade. Vehicles must enter from the north from Summer Street onto D Street; the parking lot is at 383 D Street. Look for the lot with 40 foot white truck trailers. Allow extra time for traffic.
From the North
Route I-93 to South Station exit (20 A). Merge onto Purchase Street to light (100 feet). Make a left onto Summer Street (will pass South Station on right). Go approx. 1 mile to Convention Center. Turn right onto D Street, parking lot .2 mile up on left, (look for VFP Flag)
From the South
Route I-93 – Take exit 20 toward South Station. Follow signs for Chinatown, continue straight onto Lincoln Street, turn right onto Kneeland Street, turn left onto Atlantic, south Station will be up on your right. Take a right onto Summer Street. Go approx. 1 mile to Convention Center. Turn right onto D Street, parking lot .2 mile up on left, (look for VFP Flag)