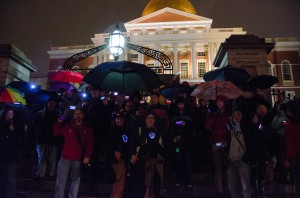 After Obama came out for net neutrality as a result of our protests last Thursday, we are working to keep the pressure on the FCC.  There will be protest parties for Internet freedom nationwide.
In Boston, Fight for the Future is organizing with the "Break the Chains" dance party. Gather outside the event at 6:30pm and we'll grab a photo op with the dance party participants in support of net neutrality.
WHAT: Protest for net neutrality! No compromise! No delay!
WHERE: Outside "Break the Chains" party @ MakeShift Boston, 549 Columbus Ave (Near Back Bay & Symphony MBTA stops)
WHEN: Gather at 6:30pm, group photo at 7pm
BRING: Cell phones, tablets, and laptops with ProtestSign.org loaded.
SHARE: The Facebook event or this page.
WHY NOW?
After Fight for the Future and other Net Neutrality advocates organized protests in 30+ cities last week, the President finally made his support for Title II reclassification for net neutrality public. In a few days time, we all pulled together protests that changed the net neutrality debate completely. Now we have to focus all of our pressure on FCC chairman Tom Wheeler. We don't have much time before Wheeler tries to delay any action and kill net neutrality.
In Hungary, thousands of citizens just beat back a tyrannical Internet Tax, with massive protests where they held their cell phones in the air. A threat to Internet users' freedom anywhere is a threat to internet users' freedom everywhere. On Thursday November 13th, we'll march with our phones, tablets, and laptops to take a stand for real net neutrality.