During the last few months, we've started to learn more about IMSI catchers, more commonly known as Stingrays. Essentially, a stingray is a device that announces "Hello … I'm a cell tower"; mobile phones in the area respond with "hello tower, … I'm a cell phone". This allows law enforcement to (for example) obtain a list of all cell phones in a particular area, or to capture individual conversations. Here's what a Stingray looks like: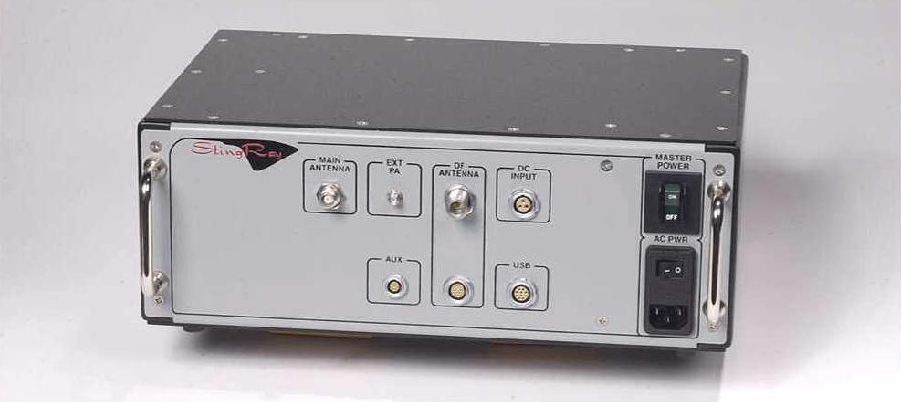 (Photo courtesy of the US Patent and Trademark Office). The trademark registration describes this device as "multi-channel, software-defined two-way electronic surveillance radios for authorized law enforcement and government agencies for interrogating, locating, tracking, and gathering information from cellular telephones". To me, the Stingray looks like a funky old piece of broadcast equipment. That's not really surprising; Stingrays are manufactured by Harris Corporation. Harris used to manufacture broadcast consoles, before spinning off that divisision into Imagine Communications.
Harris Corporation is a publicly traded company, meaning that they've got intellectual property to protect, and SEC forms to file. Even with all the secrecy around Stingrays, we have plenty of opportunities to learn about Harris the company.
For example, we can do a quick search of the USPTO's patent database, and see some of their patents. Personally, I think that "Noise, Encryption, and decoys for communications in a dynamic computer network" (8,959,573) sounds kind of interesting, along with "Systems and methods for controlling movement of unmanned vehicles (8,965,620).
Of course, my favorite documents to look through are SEC filings, form 10-K in particular. 10-K is an annual filing, where companies provide an overview of their financials, and information that might be material to investors. This includes a description what the company does, its general strategic vision, and the risks it anticipates. After all, this is the United States, and we have to take care of our investors.
Harris's 2014 filing divides the company into three segments:
RF Communications, serving (i) U.S. Department of Defense and International Tactical Communications and (ii) Public Safety and Professional Communications markets;
Integrated Network Solutions, serving (i) IT Services, (ii) Managed Satellite and Terrestrial Communications Solutions and (iii) Commercial Healthcare Solutions markets; and
Government Communications Systems, serving (i) Civil, (ii) National Intelligence and (iii) Defense markets.
Indeed, Harris makes most of their money through sales to government
organizations:
The percentage of our revenue that was derived from sales to U.S. Government customers, including the DoD and intelligence and civilian agencies, as well as foreign military sales funded through the U.S. Government, whether directly or through prime contractors, was approximately 67 percent in fiscal 2014 compared with approximately 67 percent in fiscal 2013 and 70 percent in fiscal 2012.
This leads to Harris's first stated risk:
We depend on U.S. Government customers for a significant portion of our revenue, and the loss of these relationships, a reduction in U.S. Government funding or a change in U.S. Government spending priorities could have an adverse impact on our business, financial condition, results of operations and cash flows.
Along with
The economies of the U.S. and many foreign countries in which we do business continue to show weakness or limited improvement. We are unable to predict the impact, severity and duration of these economic events. The continued effects of these economic events and the U.S. Government's budget deficits and national debt and sequestration could have an adverse impact on our business, financial condition, results of operations and cash flows in a number of ways. Possible effects of these economic conditions include the following:

The U.S. Government could reduce or delay its spending on, or reprioritize its spending away from, the government programs in which we participate;
In short, if the government decided to pull back on police militarization or domestic surveillance, Harris would be kind of screwed. This is unsettling for several reasons. Harris clearly has a financial interest in the expansion of the police/military/surveillance state; they're also a moderately large corporation, employing some 14,000 people. If you subscribe to the notion that large corporations have an easier time getting bureaucrat's ears, then the police/military/surveillance state won't be going anywhere anytime soon. Not if companies like Harris have any say in the matter.