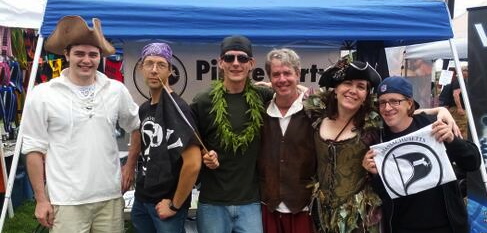 We're there every year because it's a great time and a good opportunity to meet activists (aka future pirates!)
We will be tabling at the 26th Freedom Rally on September 26th and 27th. It will be on Boston Common and both days are currently scheduled from noon to 8pm. This is our sixth year at Freedom Rally and fifth year tabling at it. We hope you will help us make it a success.
What is the Freedom Rally? An opportunity for activists interested in ending the war on drugs and extending civil liberties to meet other like-minded individuals. You can also attend interesting lectures and presentations given by vendors and activists.
This is an opportunity for us specifically to meet more people at our table and tell them about the Pirate Party. We can share ongoing revelations about the US government's mass. surveillance, in the name of "homeland security" and what citizens can do to stay connected and anonymous, since these post 9/11 powers have been used mostly to spy on drug enthusiasts, not on terrorists. We teach folks about how the internet and social media make excellent tools for getting out the word about the safety and efficacy of cannabis, since the commercial media has shown us they are dead set against legalization. We teach people about the racist origins of the war on hemp, and how useful and free it is: Easy to grow, easy to share, and how big government and big business despise a market they can't get a big cut from. And if you have technology related hemp education teachings to share, we especially welcome you!
Before or after your shift you can enjoy the rally, which will feature live music and speakers, as well as alternative religion, philosophies, and politics, and a great variety of vendors selling nifty stuff you can't find anywhere else. We really want to take full advantage of this opportunity to network and recruit new Pirates. Plus cannabis reform is a very critical civil liberties issue.
We encourage you to dress in your favorite pirate gear, be loud and show your support for the Internet, civil liberties and Chelsea Manning.
Please, invite your friends and family and help us find more Pirates to join us! If you are unable to table, please help in other ways, such as spreading the word about the Rally as well as our presence there.
Fill out the form below if you want to help with tabling. We need supporters to help from noon to 6pm as well as during setup on Saturday and take down on Sunday. You don't have to table all day. An hour or two is great, though we would never turn you away if you want to help longer. Generally, it's a mellow time to get to know your fellow Pirates as well as meet non-Pirates. Thanks!
Click here to volunteer!
We also have a Facebook event.