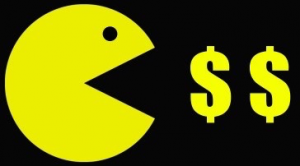 We started a petition to oppose the expansion of Massachusetts' film tax credits to video game companies.  Rhode Island lost $75 million backing video game developer 38 Studios. If a subsidy bill passes, Massachusetts tax payers could lose that amount every year and a half.
Our own calculations indicate that Massachusetts could be giving away $50 million every year in tax payer money to video games companies. Over ten years, the cost could be at least half a billion dollars. What government services will we need to cut over the next ten years to balance this $500 million dollar subsidy?
Massachusetts has a vibrant software industry that has fostered hundreds of companies. This industry was built without the benefit of tax credits from Massachusetts tax payers. The video game industry does not need special treatment and it certainly doesn't need to be subsidized $500 million over the next ten years.
H.2487 and H.2606 are still in committee, so now is the time to get people to sign.
If you want an easier url to share use: https://tinyurl.com/NoGiveawaysToVideoGameMakers
The tax dollars you save may be your own.