Back in 2014, I wrote a blog post about my FOIA request for the CIA's intranet home page Intranet home pages are a prominent part of large organizations; people who work there are likely look at the intranet a couple of times a week — even if only to see what the cafeteria is serving for lunch. I filed this request because I was curious about what the average CIA employee saw after logging into their computer and firing up a web browser. The CIA denied my request in full, which isn't terribly surprising. Having talked to other public records advocates, the CIA's typical response to FOIA requests is somewhere between "f%ck you, now sue me", and plain old "f%ck you". I'm sure the CIA takes some pride in considering itself above the law, at least when it comes to the Freedom of Information Act.
I made similar requests to a few other agencies, and one of them — the NSA — produced a responsive document. Here's my request:
May 23, 2014

National Security Agency
Attn: FOIA/PA Office (DJ4)
9800 Savage Road, Suite 6248
Ft. George G. Meade, MD 20755-6248

Dear NSA FOIA/PA Office:

This is a Freedom of Information Act request, as described in http://www.nsa.gov/public_info/foia/foia_handbook.shtml.

I am seeking the following records:

A screen shot of the NSA's intranet home page.

I am seeing this information for personal (not commercial) use.

Thanks for your time and attention. I look forward to your response.

Sincerely,

Stephen A. Revilak
and here is the NSA's response:
FOIA Case: 78186A
2 March 2017

Dear Mr. Revilak:

This responds to your Freedom of Information Act (FOIA) request of 23 May 2014 for "A screen shot of the NSA's intranet home page." A copy of your original request is attached. As stated in our initial response to you, dated 30 June 2014, your request has been assigned Case Number 78186 . For purposes of this request and based on the information you provided in your letter, you are considered an "all other" requester. There are no assessable fees for this request. Your request has been processed under the FOIA and the document you requested is enclosed. Certain information, however, has been deleted from the enclosure.

Personal information regarding individuals h a s been deleted from the enclosure in accordance with 5 U.S.C. 552 (b)(6). This exemption protects from disclosure information that would constitute a clearly unwarranted invasion of personal privacy. In balancing the public interest for the information you request against the privacy interests involved, we have determined that the privacy interests sufficiently satisfy the requirements for the application of the (b)(6) exemption.

In addition, this Agency is authorized by statute to protect certain information concerning its activities, as well as the names of its employees. Such information is exempt from disclosure pursuant to the third exemption of the FOIA, which provides for the withholding of information specifically protected from disclosure by statute. The specific statute applicable in this case is Section 6, Public Law 86-36 (50 U.S. Code 3605). We have determined that such information exists in these records, and we have excised it accordingly.

Since these deletions may be construed as a partial denial of your request, you are hereby advised of this Agency's appeal procedures. You may appeal this decision. If you decide to appeal, you should do so in the manner outlined below.

The appeal request must be in writing and addressed to:
NSA/CSS FOIA/PA Appeal Authority (PI32)
National Security Agency
9800 Savage Road STE 6932
Fort George G. Meade, MD 20755-6932
The request must be postmarked no later than 90 calendar days of the date of this letter. Decisions appealed after 90 days will not be addressed .
Please include the case number provided above.
Please describe with sufficient detail why you believe the denial or requested information was unwarranted .
NSA will endeavor to respond within 20 working days of receiving your appeal, absent any unusual circumstances.

You may also contact our FOIA Public Liaison at foialo(at)nsa.gov for any further assistance and to discuss any aspect of your request. Additionally, you may contact the Office of Government Information Services (OGIS) at the National Archives and Records Administration to inquire about the FOIA mediation services they offer. The contact information for OGIS is as follows:

Office of Government Information Services
National Archives and Records Administration
8601 Adelphi Rd-OGIS
College Park, MD 20740
ogis(at)nara.gov
(877) 684-6448
(202) 741-5770
Fax (202) 741-5769
In case you missed the timeline, I sent the initial request on March 2nd, 2014; the NSA gave their initial response on June 30th, 2014; they took a screen capture of their home page on May 26th, 2015; and provided a final response on March 2nd, 2017. That's roughly a year to gather the documents and two years for (I presume) segregation.
The NSA provided screen shots on three printed pages, which I scanned and cut together with an image editor. Here's what it looks like: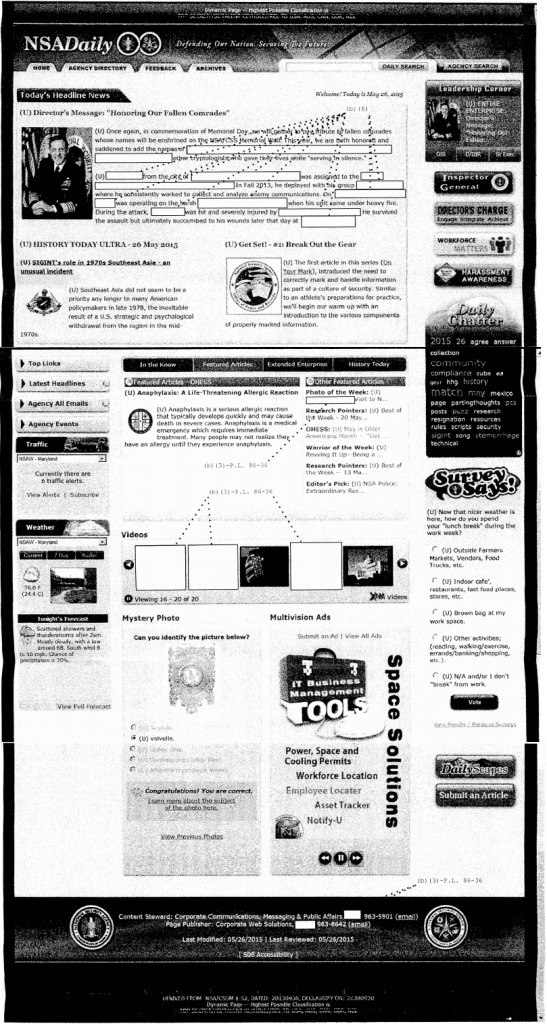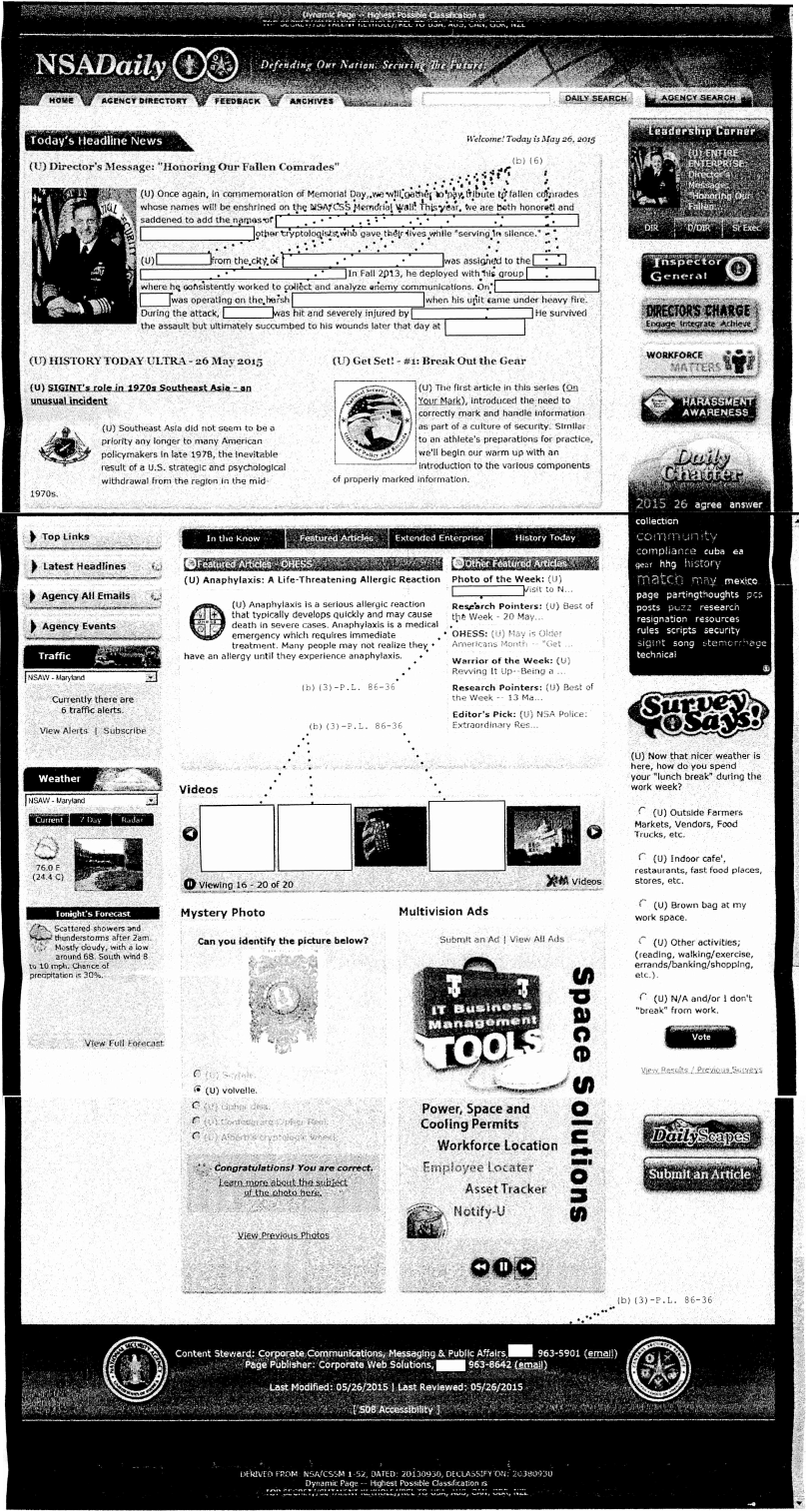 At the top you'll see a message from the director, and a plug for an article on document marking (note that most of the page content is accompanied by classification markers). There's a little tag cloud with terms like "community", "compliance", "research", "security", and "cuba". The temperature is 76 degrees with a forecast for scattered showers, and there are six traffic alerts. (The traffic alerts are a nice touch; businesses along Boston's Route 128 belt might want to take note!) There's a survey of how employees are spending their lunch breaks in the warm spring weather, a mystery photo, and an ad for IT business management tools.
All in all, it's a nice intranet home page and I thank the NSA's FOIA/PA office for indulging my curiosity.
Primary source document:
FOIA: NSA Intranet Home Page