UPDATE: We have a downloadable flier available. Please share widely.
Gregory Engels, the International Coordinator of the German Pirate Party, will speak at Tufts University on Friday, October 7th from 5 to 7pm. He will share his experiences in the Pirate movement, what he has learned about conducting Pirate policy at a municipal level and what the Pirate Party's entry into the Berlin state parliament means for German and world politics. We hope you can make it.
This event is sponsored by the Tufts University German Club.
Mr. Engels' talk will be at Olin Hall, Room 11 which is at 180 Packard Avenue in Medford. Directions by MBTA are:
1. Take the MBTA to the Davis Sq. Red Line T stop
2. Take a right after the turnstiles and take the escalator to the surface
3. Exit on to Holland St.
4. Cross to Holland St. and wait for the Tufts Shuttle by the crosswalk
5. Take the Tufts Shuttle to the Olin Hall stop.
The trip shuttle takes fifteen minutes to get to Olin Hall. Departure times are at 4:05 PM, 4:35 PM, 5:05 PM, 5:35 PM and every half hour after that. The shuttle route map is: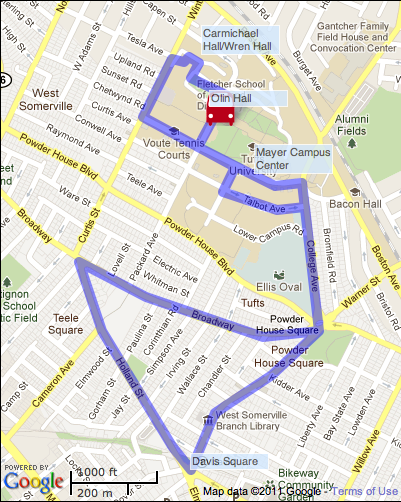 There is vistor parking at the Tufts parking garage on Boston Ave in Medford. The garage is below Dowling Hall and houses the police station. See the Tufts Univ. Parking map. You can also park in Davis Square and take the Tufts Shuttle.
Besides his position in the German Pirate Party, Mr. Engels is also parliamentary group leader on the Offenbach am Main city council and founding co-chairman of the Pirate Parties International.