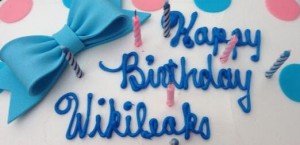 Wikileaks is turning 9! Help us celebrate with cake and by singing Happy Birthday to You, now liberated from the shackles of copyright.
Wikileaks was founded on October 4th, 2006. For the last two years we have celebrated its birthday and all of the secrets it has helped reveal. This year we will do it again.
This Sunday at 1pm, join us in Davis Sq., Somerville. We will meet in the park next to JP Licks (4 College Ave) and across Holland/Elm Street from the Somerville Theater. Davis Sq. is on the MBTA Red Line and street parking is free.
We will eat cake and sing Happy Birthday To You, now free from Warner/Chappell's copyright.
Tell us if you are coming so we know how big a cake to get. Please support Wikileaks as well.
See you Sunday!