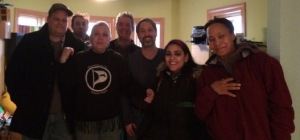 Thanks to everyone who helped in 2015.
On the first, we had a fun 10th birthday party for the first Pirate Party, the Swedish Pirate Party.
We have a busy year ahead of us and would appreciate the donation of your time and money so we can accomplish more than we did in 2015.  We could especially use the help since the cost of attending the 2016 Boston Pride Parade nearly doubled.
Our first 2016 campaign meeting of the year is this Saturday, January 9th.  If you want to ensure that Pirates shake up our one party state, join us.
We will meet at Pizzeria Regina, 353 Cambridge St., Allston (Boston), just off the Pike. It starts at 3pm and ends at 5pm.
We have a lot to do with the tasks we have to finish.  Thanks for your help!