Fight for the Future's Rock Against the TPP Concert is tonight. The concert features: Mirah, Debo Band, Taina Asili y La Banda Rebelde, Foundation Movement, bell's roar, + more. It will be at Spontaneous Celebrations, 45 Danforth Street, Jamaica Plain (Boston) and will run from 6pm to 10pm.  You need to get your free tickets in advance.
It will be a wonderful opportunity to get attention for the fight against the Trans-Pacific Partnership (TPP), Transatlantic Trade and Investment Partnership (TTIP), and the Trade in Services Agreement (TiSA).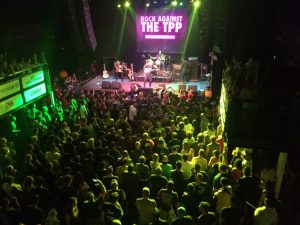 You can also invite your friends on Facebook, but be sure to get your free tickets.
Hope you can make it and please spread the word about it.
SATURDAY – TPP Teach-In
There will be a How to Fight the TPP Teach-In on Saturday, October 8, 1pm – 3pm. It will be at Spontaneous Celebrations, 45 Danforth St, Jamaica Plain, MA 02130
Local organizers and experts will give a debrief on what the TPP is and how we're going to fight back. RSVP Here!
TUESDAY – 

Tell Rep. Kennedy: No TPP!
While the Obama administration has made the passage of the TPP a top priority, we need to remind US Representative Joe Kennedy that we need him to join his colleagues in opposing the TPP during the lame duck session.
On Tuesday, October 11 at 12pm meet outside Rep. Kennedy's Newton Office, 29 Crafts St, Newton, MA 02458.
Please RSVP to Gillian Mason: gillian@massjwj.net or 617-470-7409